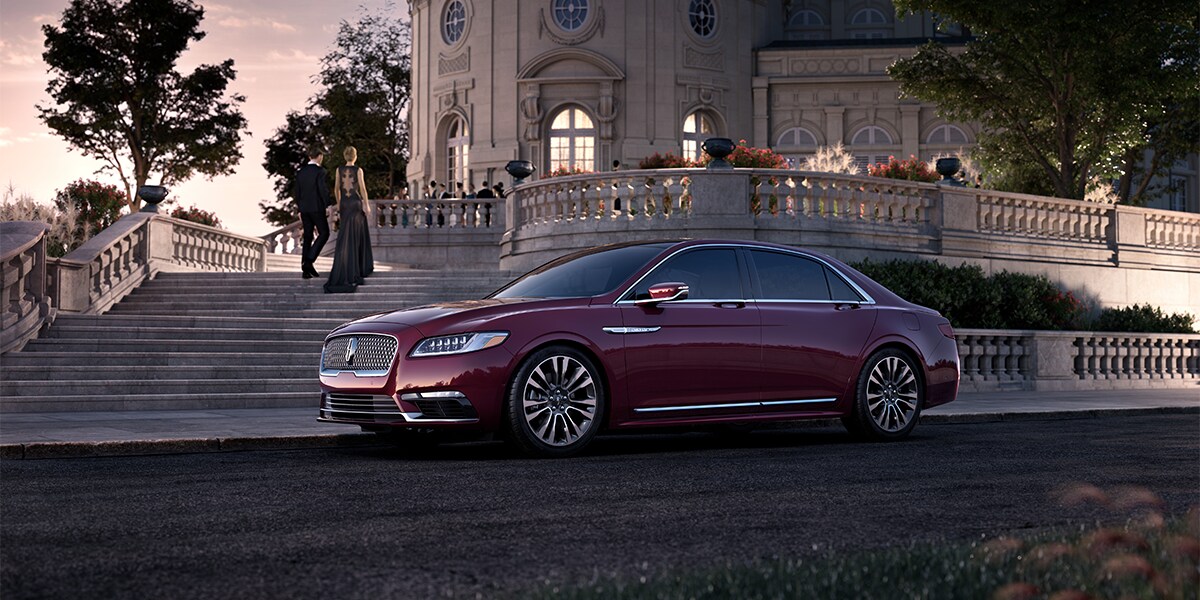 The 2018 Lincoln Continental
Calm. Cool. Decidedly Continental.
REDEFINING THE LUXURY EXPERIENCE
At Lincoln, we believe that luxury extends far beyond material possessions. Which is why, along with the intuitive features and luxury appointments of your Continental, you will receive an exclusive collection of services we call the Lincoln Way.™ These liberating benefits are designed to help uncomplicate your life. Making each day more effortless - and empowering you to soak up every brilliant, wonderful moment along the way.
ITS WELCOMING EMBRACE MARKS YOUR ARRIVAL
Take a moment to breathe deeply. Appreciate the calm that it brings. This sensation is decidedly Continental. Warmly greeting you with a series of illuminating gestures, Continental reinforces that sense of calm as you approach. Dynamic signature lighting in its adaptive headlamps flows gracefully outward, while luminous welcome mats quietly appear. Grasp the beautifully backlit handle of your door, and it opens with ease. Ambient lighting puts on a show, then the autofold side view mirrors deploy to your personalized settings. Everything about Continental embodies the refined elegance with which you approach life - making it the ideal companion for the ride.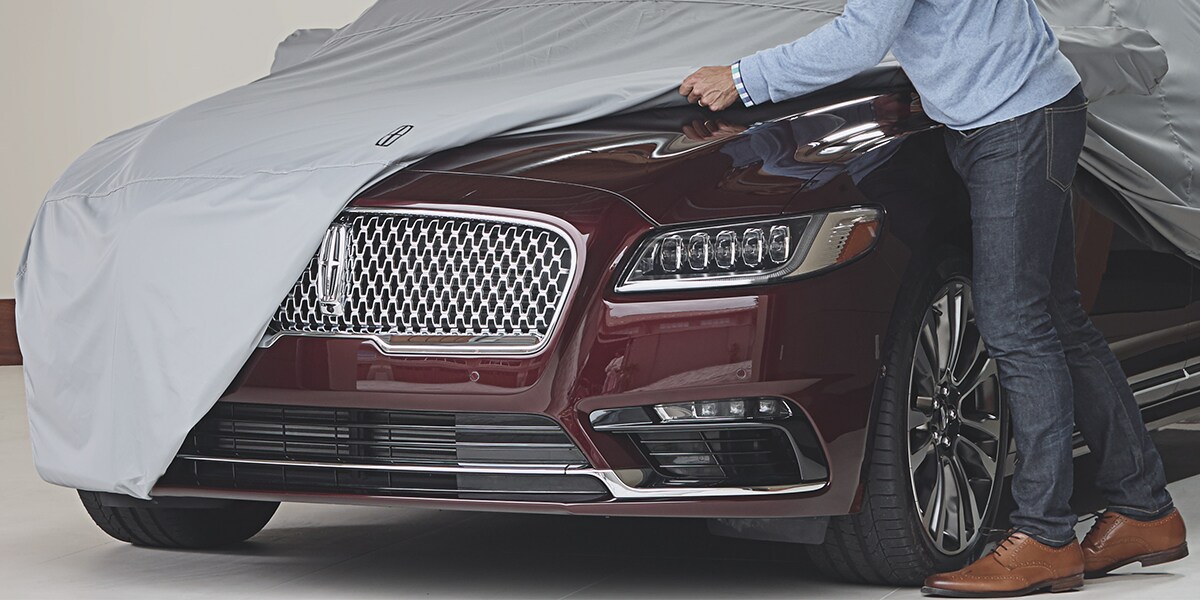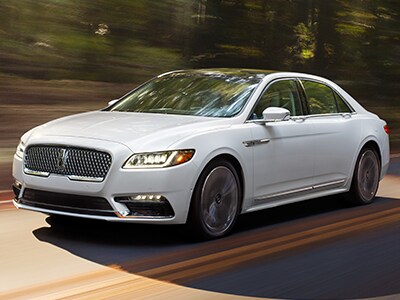 INSPIRING YOU TO MAKE THE MOST OF EVERY JOURNEY
There is a quiet confidence in the flight of majestic beings. Powered by the smoothly calibrated V6 engine of your preference, Continental emulates this commanding trait. Twin-turbocharging and direct-injection technology help the 3.0-liter and 2.7-liter engines generate virtually instantaneous on-demand power. The capable 3.7-liter features twin independent variable camshaft timing that precisely controls the operation of its intake and exhaust valves to help optimize fuel combustion. Every engine is paired with an engaging SelectShift® automatic transmission that puts the control of a manual at your fingertips. Just tap the steering wheel-mounted paddle shifters to change gears when you want, or leave it to Continental. The 3.0-liter is also paired with Dynamic Torque Vectoring and Intelligent all-wheel drive (AWD)1 for the ultimate Continental driving experience.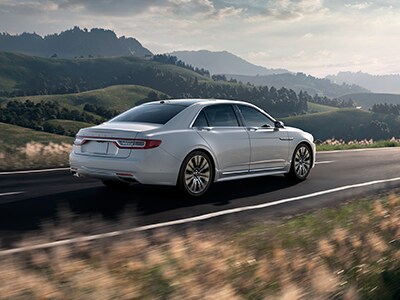 Twin-Turbocharged 3.0-liter V6
400 hp/400 lb.-ft. torque
Twin-Turbocharged 2.7-liter V6
335 hp/380 lb.-ft. torque
3.7-liter Ti-VCT V6
305 hp/280 lb.-ft. torque
YOUR SANCTUARY AWAITS
Designed with an emphasis on providing a serene experience, the beautifully detailed interior environment of Continental is crafted to be physically comforting, visually soothing and peacefully quiet. Relax into the Perfect Position front seats trimmed in Bridge of Weir Deepsoft™ leather created exclusively for Lincoln by the historic Scottish tannery. Note the seamless finish of the center console's tambour door. It's trimmed in your choice of walnut or ash,1 laser-cut from a single piece of wood. Press a button to bring the engine quietly to life. Take a moment to customize your gauges, displaying the details you prefer. Then select your gear with push-button precision, and be on your way. Enjoy every mile of your journey within these spectacular surrounding.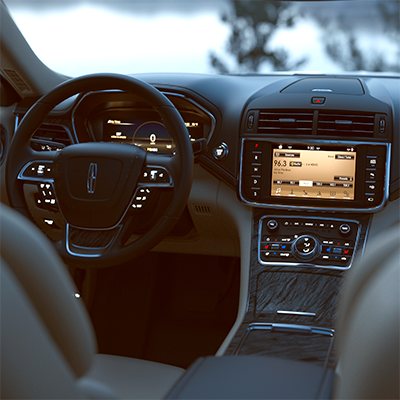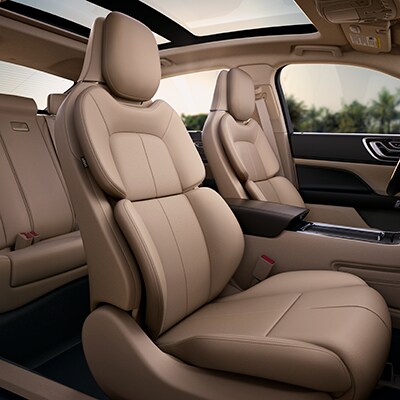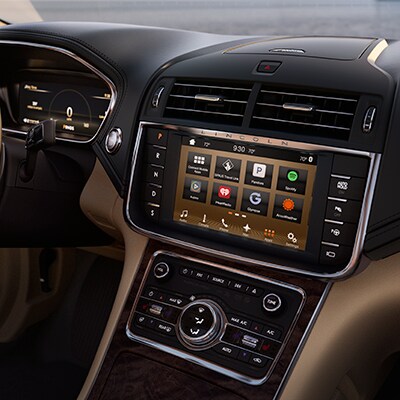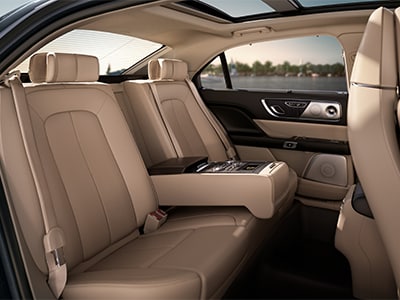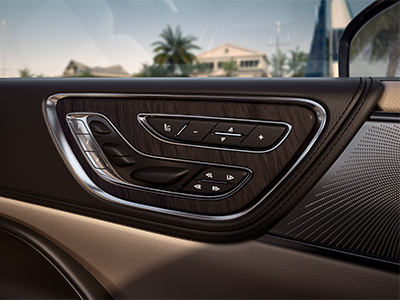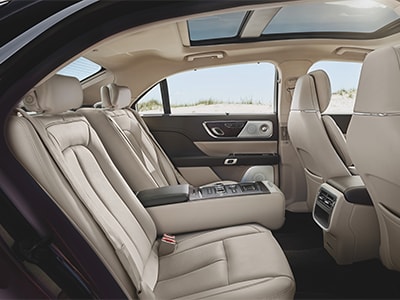 PAMPER YOUR PASSENGERS
Lincoln Continental believes in equality for all, including offering luxurious amenities to the passengers it transports. Give your companions the power to control their environment with the Rear-Seat Package. First, they can select a temperature and adjust the power rear-window sunshade to their liking. Sunshades can also be extended over both rear-door windows. Next, they'll customize the fit of their heated and ventilated outboard seats with Active Motion® massage functionality, power lumbar and recline. All while enjoying beautiful views framed by the dual-panel moonroof, increased airflow from the extra rear registers, and the comfort of inflatable outboard safety belts. With this package, rear-seat passengers can even move the front-passenger seat forward when it's not occupied - giving themselves more room to relax.
REINVIGORATE YOURSELF
Inspired by private aircrafts, our Perfect Position front seats feature a patented comfort-carrier design that flexes around you in a personalized embrace. Each thigh cushion extends and adjusts independently to help support both of the driver's legs, the one at rest and the one engaging the pedals. Heated and ventilated settings help optimize your comfort in any climate, while the Active Motion® massage functionality helps reduce muscle fatigue in your upper legs and lower back. Arrive feeling revitalized and refreshed in Continental.